General Objective:
To help learners understand and start to use effective strategies to
ask for clarification
during interactive communication
Specific Objectives:1)
Asking politely for repetition using "Sorry?" and "Excuse me?"
2)
Repeating what others say with correct intonation to show you are checking to see if you have heard correctly
Input Dialogue Model:
Noticing (based on the dialogue input):
1. Before opening books, present a range of settings to the students that represent situations where it will be hard to hear what others are saying (railway station, concert, school corridor). Ask them to try and explain why it might be hard to communicate effectively in these settings.
2. Open the book and direct students' attention to the picture. Together as a class, try to identify where the place is [movie theater], who the boy may be talking to on the phone [friend], and why [recommend catching a movie together].
3. Have the students close their books and play the dialogue. Ask students to relate to each other in pairs how much they can recall of the conversation then report to the whole class.
4. Open the textbooks and play the dialogue again, allowing students to read along.
5. Ask the students to answer these four questions:
a.
Who is talking and why?
b.
Is it easy for the people to hear each other? Why/why not?
c.
What information does Max have trouble getting?
[who the speaker is / the name of the movie / meeting time of 6.00]
c.
How does Max make sure he understands what Ted is saying?
[help students notice the two ways - by saying sorry/excuse me? and/or repeating key information in a questioning fashion]
6. Have the students practice the dialogue in pairs and put particular emphasis on the parts where Max is trying to get information clarified/repeated for him.
Drill Practice:
1. Perform the drill chorally, with teacher saying and then the students repeating
2. Repeat choral drill, with teacher providing main sentence and class together adapting it using the variation provided
3. Ask students to turn back to the original dialogue and underline the parts that are featured in the drill. Then ask them to do the original dialogue together in pairs and pay attention to the parts they have underlined.
4. Return to the main drill section have students cover the right side (variations). Students then chorally do the main sentence, teacher provides the missing variation, students chorally produce a new sentence using this variation.
5. Have students perform (4) above in pairs.
6. Allocate some actions or emotions to the words in the slots or variations - students apply this chorally and then in pairs.
7. Fluency: have students say all the sentences and then all the possible variations as quickly as possible, on their own but everyone at the same time in the classroom (could be noisy, but fun!)
8. Ask students as a class to volunteer new words that could be used in each sentence model.
Enunciation Practice: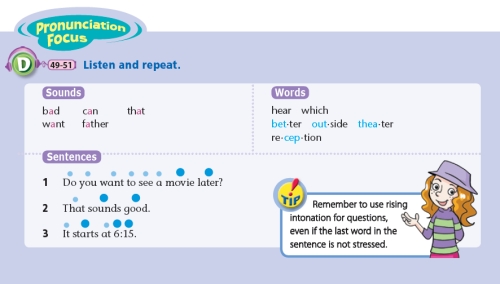 1. Sounds
- Say the sounds "ae", "oh" and "ah" by themselves and ask the learners to write down the letters they think represent these sounds (they may write "o" and "u" for the last two, and possibly "e" for the first one).
- Explain that these sounds can all be represented by the letter "a", then have them look at the examples.
- Practice the words chorally with the teacher, with lots of repetition. Speed up the pace of the repetition in a crescendo fashion to make it more fun for the learners.
- Have the students practice the words in pairs together in the same way.
2. Words
- Listen and repeat using the words (choral).
- Listen and repeat again, but hold up fingers for each syllable they hear (+ correct if necessary).
- Listen and repeat, using a finger for an unstressed syallable, and a full palm or fist for a stressed syllable (teacher models first and then students try)
- Have the students try the words together in pairsusing the same technique (fingers/palms)
- Have the pairs do the words again, slapping the desk for each stressed syllable
3. Sentences
- First ask students to try and say the sentences chorally (not repeat after teacher) and for each indicate if they are saying it correctly. Repeat each one until it is correct or very close to correct based on the sentence stress pattern indicated.
- Distribute blank paper to the students and ask them to write the sentences out using hills or valleys (stressed versus unstressed). Make sure all unstressed words go into one valley together to show the sentence rhythm in terms of beats.
- Have the students do the sentences chorally and in pairs again, referring to their hills/valleys charts
Discourse Awareness:
- Have students attempt to put the conversation elements in the correct order. Do this in pairs or small groups and let students debate with each other as to the correct order.
- Play the dialogue in the correct order and let students check and correct their own work.
- Have students practice the correctly-ordered dialogue in pairs.
- In pairs, ask students to insert one more piece of information and an accompanying clarification into the conversation. Tell them to refer back to other parts of the unit material so far to get ideas on what kind of information to insert and how a person could check for clarification. It should feel natural to the existing dialogue and make sense.
- Have the pairs perform the dialogue, with the new insertions, in front of the class.
Production Activity:
Ask students to get into pairs or small groups and choose a situation from this list:
- Meeting a friend to play sport
- Meeting a friend to go to the video game arcade
- Meeting a friend to do some kind of hobby together
Based on the situation they choose, students compose a dialogue together that involves giving and clarifying information, using the skills they have learned so far in the unit.
After the teacher gives the group dialogues a quick check-over, pairs/groups take turns performing them in front of the class.
Homework is to memorize the dialogue so that it can be performed in the next class without referring to notes!
***
Admin





Posts

: 334


Join date

: 2008-03-07


Age

: 46



Thank you, Jason!

I was really waiting for your example.

Nowadays, I'm thinking of lesson outline.
How can I do that creatively?
What methods are effective for students to learn speaking skill?
like that.

But, everyday same things.

Maybe on Monday something gonna happen? HAHAHA~
don't know yet.
Anyway,
Have a nice weekend and see u on Monday!

Flyer





Posts

: 32


Join date

: 2008-03-11


Age

: 33



Thank you for showing your example~
As she said above, I also think everyday how I can make my outline more creatively, but it is very hard to come up with.
I didn't know that teaching needs lots of energy and time to study more than student. haha
Anyway, I also hope that every classmates will do well on next exams

Good luck everyone !
Flyer





Posts

: 32


Join date

: 2008-03-07



Thank you for a good example.
The midterm is coming!
I think I should have a time to comparing this example and what I've done so far as assignments.
Good luck for everybody

Flyer





Posts

: 34


Join date

: 2008-03-09



Wow! finally we can see the example of what we are going to do for mid-term. It is still hard to make my outline better compared to others. However, I like challenge to achieve my goals.

I think every classmates would make it right if we try to do our best about our things.
From now, I am going to try to figure out what I should do for mid-term.

Best wishes,

Kanghoon
Superstar!





Posts

: 112


Join date

: 2008-03-11



It's so kind of you~! kkk...and this will be really helpful to make my lesson plan!
I hope you had some good time and have it for the rest of weekend. Thank you!
Mover





Posts

: 16


Join date

: 2008-03-08




---
Permissions in this forum:
You
cannot
reply to topics in this forum